As part of our 'Spotlight' series, Rooks Rider's Chief Executive Officer, Walter Cha meets with Gemma Newing, our Head of Dispute Resolution.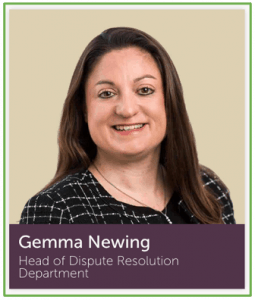 Gemma is head of the Dispute Resolution department at Rooks Rider Solicitors. With over 15 years' experience acting on behalf of national and international clients, Gemma undertakes a broad range of commercial and corporate disputes, most of which are in the High Court of England and Wales.
Work Areas
Having practiced for over 15 years, my experience in commercial dispute resolution is both wide and varied. I would summarise it as follows:
Commercial contract disputes
Company/partnership/shareholder disputes, with particular specialism in s.994 Unfair Prejudice petitions (Stanley Wootliff – v- Martin Rushton Turner and others [2017] EWHC 3129 (Ch) and [2016] EWHC 2802)
Injunctive relief, with a particular emphasis on breaches of restrictive covenants in employment contracts (Dreymoor Fertilisers Overseas PTE Limited -v- (1) Eurochem Trading GmbH (2) JSC MCC Eurochem [2018] EWHC 2267 (Comm) Enforcement in England of foreign judgments obtained in other jurisdictions
Enforcement in England of foreign judgments obtained in other jurisdictions
Construction disputes
Contentious trust disputes
Company restorations
Commercial debt recovery
Enforcement of Judgment debts
Business protection
Insolvency – corporate and individual
Alternative Dispute Resolution with particular emphasis on mediation
What made you choose to become a solicitor?
My interest in Law came at a very early age! I was around 10 or 11 when I decided that was the career for me. I guess my interest came from being inquisitive and wanting to look at things from different angles and from that present my findings in school presentations I recall doing. That then transitioned into my career today – acting for clients, getting to know the detailed background to their position and that of the opponent, and presenting my client's position.
Coming from a background of non-lawyers, I did not know of anyone who was a solicitor, so I carried out a lot of research on the areas of law that would interest me and I gained as much experience as possible prior to qualifying.
Whilst it may sound a cliché, I find that every day as a commercial litigation solicitor is different. Every case is different. Every client and their needs are different. This is just one of the many exciting aspects of my job. Whilst it can be very stressful at times, I find this is outweighed by the positive results I achieve for my clients.
'Best' career moment so far?
Acting for a number of Respondents in a s.994 Unfair Prejudice Petition at a Trial spanning 5 days in the Commercial Court. The Trial was the culmination of several years of hard-fought litigation and whilst the Trial was the last resort with resolution being sought throughout, it was a resounding success for the clients, with the Applicant's case being thrown out.
Interesting fact
Outside of work Gemma can be found donning her dancing shoes at every possible opportunity to practice her Latin and Ballroom dances.
For more information on dispute resolution and to discuss how we can help you and your business, contact Gemma Newing .