In this edition of 'Law in the Spotlight', Rooks Rider Solicitors' Chief Executive Walter Cha talks to Gemma Newing, Head of Dispute Resolution, about the global pandemic and the impact it has had on commercial litigation.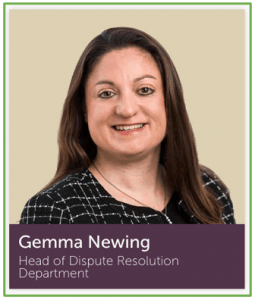 What effect did the first few months of lockdown in England and further afield have on commercial disputes?
 It's fair to say that, at first, my clients, and fellow lawyers and I were somewhat taken aback by the events that were unfolding; events that had only ever been seen before in our lifetime in fiction, on the big screen.
We were all trying to make sense of what was happening, and the Courts were having to adapt rapidly to the circumstances.  For a brief period of time, some hearings were adjourned as we all tried to find our feet.
We soon acknowledged that, in order to continue, we had to adapt our working styles.  After an initial period, my work as a commercial dispute resolution solicitor remained fairly unaffected.  If anything, there were more contentious matters arising because of what was transpiring.
What has been the biggest change you have seen to date?
It has to be virtual mediations.
Had I been asked pre-pandemic whether my clients and I would be willing to participate in a virtual mediation, I would have been extremely hesitant.  I, like so many commercial litigators, had become accustomed to 'needing' to see the 'whites of the eyes' of my opposition and felt an in-person mediation was the way to achieve that and seek a successful resolution of a dispute for my clients.
I have been converted! I approached my first virtual mediation with an open mind and was willing to embrace the new dawn – and I am so glad I did.  My client was based in America and, whilst the commencement of the mediation day at 9am meant an early morning start for them, they did not have the associated costs and inconvenience of travelling to London for a mediation.  During the course of the mediation day, in between the down time, they were able to carry on their work as normal.  The impact to their business by attending the mediation was greatly reduced, in comparison to an in-person mediation.
The mediation itself ran extremely smoothly, with the technology allowing the parties to be contained in break out 'rooms' and, if appropriate, for the lawyers to congregate in a virtual room; all of which was arranged by the mediator.  The natural tensions of the day also subsided when my client's dog, Jaspar, become a participant in the mediation.  That served as a great ice breaker and added a sense of humanity to the proceedings. This made the parties to the commercial negotiations think of the 'bigger picture'; something which can sometimes be lost when parties become entrenched in a dispute.
If anything, I think the format of virtual mediations enables parties to be more relaxed and, therefore, more willing to be conciliatory.  Far too often in my career I have seen parties arrive at an in-person mediation with their sleeves rolled up, jostling to give the knock out winning blow.  But, from my experience, virtually this mindset seems greatly diminished.  Perhaps it is because people are in the comfort of surroundings familiar to them; it takes away the hostility that people might otherwise feel by being confined in an unfamiliar sterile office for hours on end. Because the parties' mindsets have appeared different, the virtual mediations I have been involved in have been successful.
Have there been any positives for commercial litigation coming out of the pandemic
Yes! It may be surprising to hear, but there have been plenty.
Take the Courts for example.  I will not be the first to say that the way in which Court business was conducted was crying out for modernisation.  Whilst this was on the cards, the pandemic required the Courts to implement upgrades on a rapid scale that would not otherwise have been seen.
Before the pandemic, remote hearings and virtual Trials were very much a rarity.  Now, in the space of 12 months, many of us consider it to be the norm.  It is both surprising, but greatly pleasing at how the Courts and commercial litigators have adapted.  I have found that conducting hearings remotely has huge benefits.  Virtual hearings have resulted in considerable costs savings for clients, with there being no travel and waiting time at Court.  This can only be a good thing.
What are your predictions for the next 12 months?
Now that we have adapted our working practices, I would be most surprised if the profession regresses back to our pre-Covid working methods.  The pandemic has made us realise how technology can assist with our day jobs, all of which benefits our clients.
I greatly anticipate virtual mediations are here to stay.  It makes sense.  Why would I encourage my clients to incur the travel costs and time away from their business to come to England to participate in a mediation, when it can be done virtually?  Whilst there may be some necessity for an in-person mediation, I believe this will become the exception, not the norm going forward.
I also anticipate virtual Court hearings to continue, especially for interim applications.  For Trials, I would not be at all surprised to see a hybrid system in place, where Trials are conducted partly in person and the remainder virtually.
Throughout the pandemic, the English Courts have demonstrated how adaptable they are, and yet again why the Courts of England and Wales are seen internationally as a desirable forum in which to resolve disputes.  Whilst the last 12 months have been understandably challenging from a humanitarian and business perspective, much has been learnt and there have been many positive aspects to come out of it; changes which I believe will remain in place as we move forward into a post-Covid era.
If you have questions relating to this topic, or require advice and assistance, contact Gemma Newing or a member of Rooks Rider Solicitors' Dispute Resolution team for advice and assistance.
About our 'Law in the Spotlight' series
'Law in the Spotlight' is a Question & Answer Series with Rooks Rider Solicitors, where our experts ask and answer questions relating to topical articles and recent developments relevant to the UK law and our clients.  We welcome ideas for future episodes in the series and invite you to submit a topic via email to: lawyers@rooksrider.co.uk.